Our Suites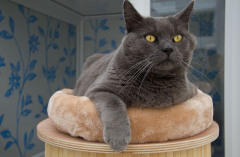 Aristocat hotel boasts modern, purpose built accommodation; with its impervious design, our suites offer the highest standards of hygiene.
Our accommodation is placed in a beautiful, tranquil setting; suites overlook the garden with plentiful flora and fauna to keep our guests entertained in between pamper sessions, fine dining experiences and play time.
Aristocat hotel is all about comfort, relaxation and the finer things in life.
We offer eight luxurious suites, each heated and individually decorated to suit various guests' tastes.
RETRO SUITE

For the hip and funky feline

GONE FISHING SUITE

For the guest looking for that waterside getaway

LAZY DAISY SUITE

A floral suite with a modern edge

CITY SLICKER SUITE

For the cat about town

INTREPID TRAVELLER SUITE

For those guests with a wanderlust

MIDAS TOUCH SUITE

Our suite with the golden touch

THE SANCTUARY SUITE

The perfect relaxing break

COUNTRY RETREAT SUITE

For the guest with a love of the outdoors and that cosy cottage feel